There is tons of research available to help companies craft employment opportunities that attract and retain the best-and-brightest in their field.
This article will not be adding to the clutter.
Instead, I wanted to share a personal experience about managing our talented (and growing) team here at MKG Media Group.
My Number 1 Rule to Retaining Rock Star Employees: Specific Recognition
A recent Society for Human Resource survey found that a major source of employee happiness comes from being recognized for all their hard work from the management team.

Additionally, a story from Graham Winfrey on Inc.com found that one of the top reasons rockstar employees are annoyed with their company is from a lack of recognition for their hard work.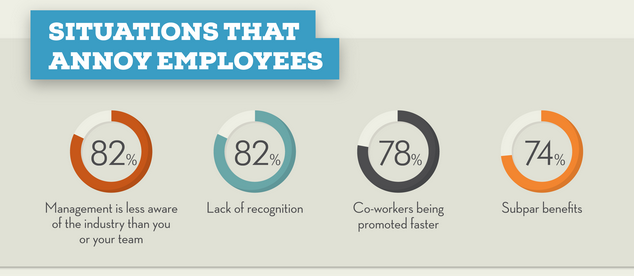 So why aren't companies recognizing their team members more often?
I won't even begin to attempt to make a blanket statement for all companies across the globe, but I can share a few of my own personal struggles in recognizing the rockstars here at MKG:
Eventually Superman becomes … Just a man: What I mean by this is that after you get used to your team doing amazing things, it almost makes it tough to recognize how awesome they are on a regular basis. It becomes the norm! Unfortunately, this means your brain only recognizes when a mistake is made and a discussion is needed, which is not a great practice for leaders to get into.
Busy = Head Down: Sometimes I get so busy that I mentally recognize something amazing, yet don't have the wherewithal to congratulate the team member
Specificity and Recency is King: Expanding on my second issue, if I don't give the feedback immediately and as specific as possible, it's less likely that I will pass along the praise.
Okay, okay: I'll give my rockstars some love. But how do I avoid doing it the wrong way?
There's a great Forbes article that breaks this down into a few problems with type of feedback:
Wrong Recognition: This is defined as recognizing team members in the wrong way. For example, praising shy team members who would prefer a private 'good job for …' by sending an all-office email and standing them up at the quarterly company meeting in the middle of their peers.
Non-Specific Praise: While giving a 'way to go!' comment is nice, leaders need to be specific in the praise that they deliver. 'Great job drawing up [specific example] for [example client]…' is way better than 'good job'.
Recognition is a "Check the Box" Exercise: It's almost become a boring routine for leaders — wake up, check email, say good job to 'check off the box' on your daily to-do list.
Two examples from the team here at MKG:
Our team is filled with creative marketers who never cease to amaze me. Every day I literally catch myself say 'Wow! Now why didn't I think of that…' — it's amazing!
While we don't have too many processes here, there are a few ways that we recognize our people for their accomplishments.
Recognition Practice #1: Praise During Friday Stand Up Meetings
Every single day the team stands up (physically) and we discuss what we are going to accomplish that day.
Don't mistake this for a long meeting: we literally speed through everyone's day and anything that requires more than a 10 second conversation is scheduled as a meeting at a later time or date.
On Friday's, we take the opportunity to say what we are grateful for; this can be anything personal, professional or otherwise.
That being said, often one of our team members will speak to a specific event that happened earlier in the week and thank a team member for their support. 
This is a great way to recognize teammates accomplishments in a public setting and has worked out well for us over the past three years.
Recognition Practice #2: Digital SWAG and Badges
Earlier this summer, one of our teammates did something totally above and beyond their pay grade and everyone was blown away.
Almost on cue, somebody created a fun little MKG 'badge' to recognize their hard work and posted it in HipChat, our group chat tool, and bragged on them.
Immediately the following things happened:
Everyone burst into laughter and jumped on a group Skype call to talk about how cool the badges were
The team member who went above-and-beyond blushed and thanked everyone for their recognition
We were left with something tangible for that teammate to recall their hard work
The MKG badge resurfaced this week when our Content Strategist Adam Bullock completed something he's been working on for the past few months:
Recognizing rockstar employees is critical to growing your company
I've stated my case above about the benefits our team has seen with regular praise and recognition processes. What is your opinion about recognizing your team members?